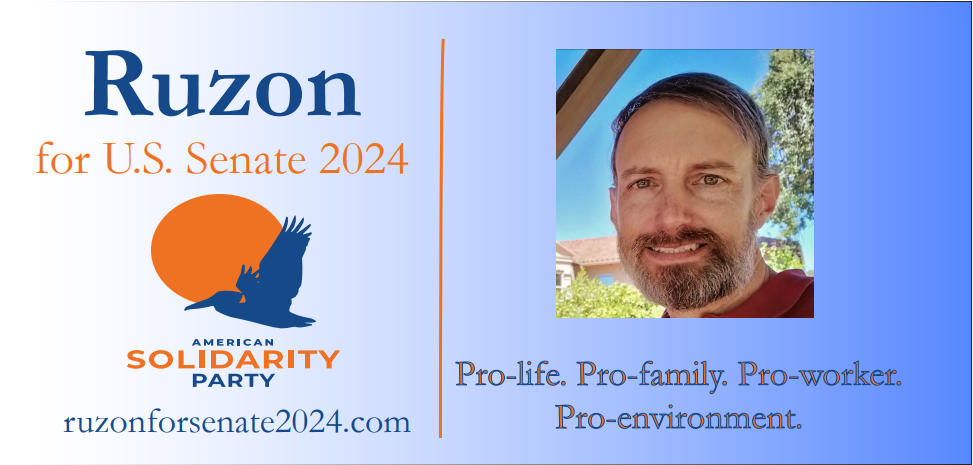 By Mark Ruzon, 9/16/2023
I'm running for Senate…
and I need your help.  I'm Mark Ruzon, the American Solidarity Party's candidate for U.S. Senator from California.  I'm in the race to replace Dianne Feinstein and bring a pro-family, pro-life, pro-environment message to the people of California: that the ASP is here to act for the common good of all Californians.
Soon, the window for gathering signatures will be open, and I need your signature…and your spouse's signature, and your friends' signatures, and the signatures of people you don't talk to all that often.  Each signature reduces the amount of money I need to raise by about 50 cents, but more importantly, this is your chance to talk to people you know and introduce them to the party.
As I've talked with people I know in the city of Mountain View where my family lives, I've run into a lot of confusion about political parties and the signature gathering process.  As I explain how the ASP wants to help babies both before and after they're born, how we believe the family is the fundamental building block of society (and how families hurt today), and how caring for people and for the environment are intertwined, their faces soften, they tend to nod their heads in agreement—and then they sign the petition.
I'd love for you to help me get 7,000 signatures—that would eliminate the filing fee altogether!  I can't do it myself, and I don't have armies of paid signature gatherers to do it for me.  Instead, I have you.  I'd much rather have your help, because too many people still haven't heard of us.  They think Democrats and Republicans are all they have to choose from.  And they get cynical and think it doesn't matter.  That's where your voice can speak volumes.
You can get 2 signatures or 200, it doesn't matter to me.  Your support and willingness to help build our party is priceless.  And if you want to help but can't gather signatures for me, you can always…